What a top Vienna Sex Club can offer you is reliability and high-quality service that is easily negotiable. You really don't want to go to those brothels where the girls agree on one thing and then you get something different in the room.
The best club simply can't afford to rip off their clients. Since they want to maintain their status as highly reputable places, they strive to provide services that are convenient and enjoyable every time. Although the prices might be higher, the value you get is actually worth the amount of money you pay, if not more.
After all, these Vienna sex clubs make you able to meet better looking girls and get better services in a clean and comfortable environment. If you have high standards, then it's definitely worth it.
Vienna Sex Club Toplist
In this article, we are going to talk about the 3 best clubs in Vienna. Maxim Wien, Babylon and Goldentime have proved themselves time and time again over many years as the top places in the city. Let's find out why:
Maxim Wien
When you enter Night club and Sexclub Maxim Wien, the environment speaks for itself. You can immediately feel that you have entered a Vienna sex club that is among the very best in the city. This place is not only attractive for the clients but also for beautiful girls that want to work there.
As a result, you can always find a lineup of stunning girls there. Besides their looks, they are prepared to provide the type of service that will make you re-visit the club many times. Maxim is a top brothel and a great place for parties at the same time.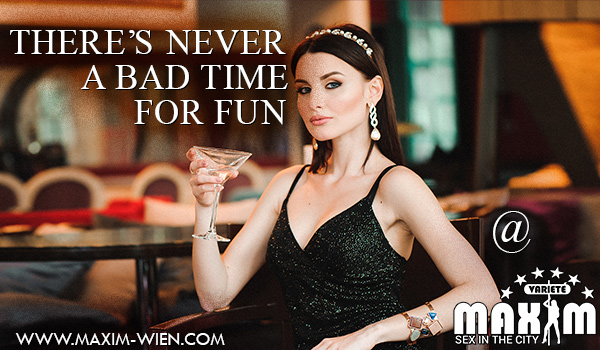 It is where the best bachelor, divorce and birthday parties are held. The night club gives you the opportunity to invite your friends for your own crazy party. But even if you decide to go to Maxim on a weekday night, you are guaranteedly going to have a good time.
There is no entry fee. All you need to do is to sit down in the bar area, have a drink and meet the beautiful girls there. The price for the standard service ranges from 200€ to 280€ depending on which room you choose. You can negotiate any extras you want to add with the girls once you meet them in Maxim.
Goldentime Vienna
Goldentime is one of those saunaclubs where you can relax and spend many hours in the company of beautiful girls. Dozens of stunning beauties walk around the place naked or almost naked. This is not the type of place that requires you to check the lineup beforehand at home.
There is no such option because it is not even needed. There are so many beautiful girls available at the club every day that you will surely find a beauty you are interested in. Besides, the lineup is constantly changing and thanks to Goldentime's reputation, it is frequented by really hot girls.
After you pay the entry fee, you put on a towel or a bathrobe and then all you need to do is to enjoy what the club has to offer. You can have a few drinks, swim, watch erotic movies and join the solarium or the infrared room with the girls. If you are hungry, you can eat some delicious meals there as well.
There is a neat garden outside with a pool, comfy beds and places to sit. Thanks to the water and ground heating system, this area is available during colder seasons too.
As you can see, Goldentime is the place where time flies. And you have plenty of time to find the perfect girl – or girls – to spend your time with in one of the rooms. Half an hour with a girl costs 60€, whereas a full hour costs 120€. Extras: CIM 60€, anal 120€, cum on tits 60€ and swallowing 60€.
Babylon Vienna
Babylon is well-known as the most expensive brothel in Vienna. If you are looking for luxury and extravagance, then you should definitely give this place a try. Most of what happens in the club, stays in the club so it's difficult to get more information about it.
Babylon is mostly frequented by the elite and men who work in high positions are the most demanding for discretion. Even though the brothel has its own website, there is not much to read about it there. Babylon solely relies on its reputation and they don't even care about the online marketing part.
The club gives you access to the finest drinks and some of the finest girls. They are all experienced and ready to provide an all-inclusive service. If you pick the right girl –and if you bring enough money with you, of course – then you might even have a chance for AO sex.
However, this is not the type of service Babylon is mostly known for. The secretive nature and high reputation of this Vienna sex club are the two thinks that make it one of the best on our list. In Babylon, the entry fee is 100€ which includes food and beverages. The price of the services vary depending on the girl you choose.
Vienna Sex Club related articles